I am missing my Grandma today.
It's been a handful of years since she's been gone. I feel lucky to have had so many years with her. But still I miss her.
I remember when I was the same age my son is now, about 8, Gram and I used to walk the ditchbanks in Sand Hollow, Idaho – a very rural farming community – and pick wild asparagus and other delicacies for our supper, and to make juice with. Sometimes we'd walk out, and sometimes we'd ride horses.
That time was always a quiet time. My Gram never talked much. She never once, in all my years, raised her voice, and I never saw her get mad. Oh sure; I saw her take a shotgun and chase my dad off her property once, and I heard that she nearly broke my Grandfather's skull open with a cast iron frying pan the one time he figured it was okay to slap her. But never – never ever ever – did she raise her voice.
Instead my Gram would watch. Watch and listen. If I asked a question, she'd answer.
Sometimes, on a rare day, she'd tell me a story. Or she'd sing and play the piano, or the guitar.
Right after my horse and I had a terrible accident – we'd been running, and a car scared her and she'd slipped and fallen, and we'd both been hurt – I was too afraid to ride again. I was maybe 9. After about a week of not riding, Gram took me out and saddled my horse – Misti – and told me to get on.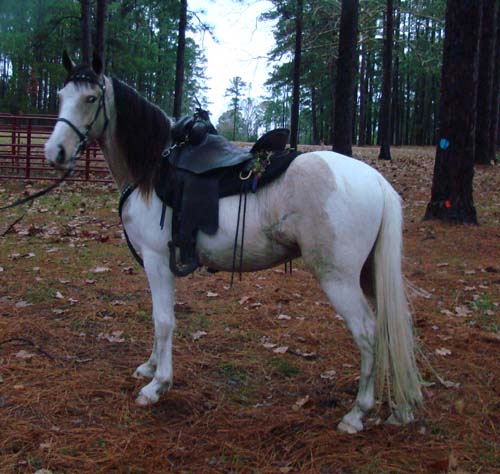 I admit it; I whined.
I remember so clearly the way her mouth hardened - just a subtle loss of softness. She shook her head twice, or maybe three times. "If you don't get on now, Lauri," she told me, "You never will."
Gram did so many wonderful things for me throughout my life. When I was a baby, she handmade me an activity book (which I still have). As I grew, as I made mistakes, she stood strong for me, by me, and behind me.
My Gram was the matriarch of our family for the four decades I knew her. She was the strongest woman I have ever known. Always kind. Always, always good. Always unfailing in her love, and unflinching from her duties.
She worked as one of the Rosie the Riveters during World War II. She learned to weld and worked in a factory for several years while the menfolk were gone fighting Nazis across the ocean. Once they came home, she refused to stop working, and she refused to take being slapped.
My Gram loved me very much. I could always tell. That smile that rose when she'd catch sight of me.
She loved me and she inspired me.
And now that she is gone, I miss her. So very much.
Why is the pain so sharp today? Maybe because this morning I caught the smell of asparagus on the wind.